Till is designed to be an affordable and flexible model of writing residency so that writers of all means can give themselves the time to write.
Residents can attend for any duration that suits their schedule. Each day of the residency costs $40. If you attend for all four days the price is $140. This includes dinners each night and workshops.
We also offer discounted rates for volunteers. Duties include set up and clean up of dinners on Thursday, Friday, and Saturday night and clean up on Sunday. Interested? Email Us!
2019 Unicorn Resident – Attend for Free!
This year, Till is offering a free spot at our residency, thanks to the generosity of an anonymous donor. This spot is designed for a Person of Color who is a mother, LGBTQIA, disabled, or emerging writer. A single person can come for all four days, or two people can attend for two days each. If this describes you, please send a short personal statement (500 words max) about what compels you to write and what a residency at Till would mean for your writing, to info@tillwriters.org by May 16. Expect a response by May 23.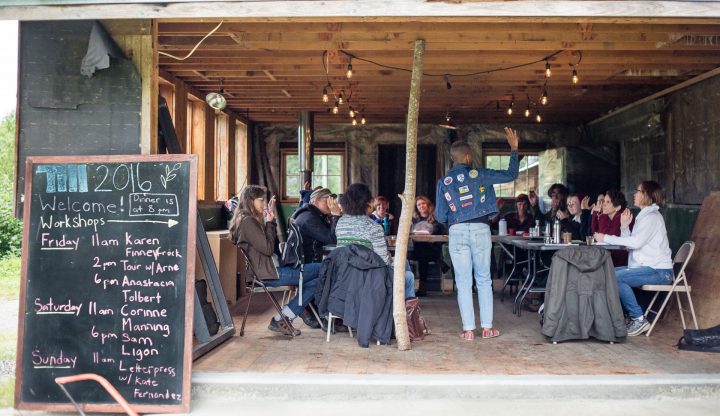 WORKSHOP LEADERS
Daryle Conners is an award-winning author, filmmaker, and VR designer. Her book series, Gabby Duran and the Unsittables is published by Disney Hyperion and will premier as live-action Disney Channel series in September 2019. She has also written 12 joke and riddle books for Scholastic, as well as several feature screenplays. Daryle is currently producing Cory McAbee's feature film, Deep Astronomy, which premiered as a live show at Sundance 2018. She is a founding director of Episodic Entertainment, based out of Seattle, and will be directing "Champagne Widows", a documentary, for French TV in late 2019. Daryle is also the dramaturge and director of "This Picture", a one-woman show starring singer Jen Ayers.
Ramon Isao is a recipient of the Tim McGinnis Award for Fiction, as well as a writing fellowship from Jack Straw Cultural Center. His stories have appeared in The Iowa Review, Ninth Letter, Hobart, and The American Reader. He is also an award-winning screenwriter, whose screenplay credits include Dead Body, Zombies of Mass Destruction, and Junk (in which he co-stars). He has an MFA from Columbia University, and he loves teaching creative writing at Hugo House in Seattle.
Dr. Raina J. León is an Afro-Latina, native Philadelphian, daughter, sister, madrina, comadre, partner, poet, writer, and teacher educator.  She believes in collective action and community work, the profound power of holding space for the telling of our stories, and the liberatory practice of humanizing education. She seeks out communities of care and craft and is a member of the Carolina African American Writers Collective, Cave Canem, CantoMundo, Macondo; she actively works to create those communities for and with others through The Acentos Review and Cleave: Bay Area Women Writers. She is the author of three collections of poetry, Canticle of Idols, Boogeyman Dawn, and sombra: (dis)locate and the chapbook, profeta without refuge.  She has received fellowships and residencies with the SV Community of Writers, Montana Artists Refuge, the Macdowell Colony, Kimmel Harding Nelson Center for the Arts, Vermont Studio Center, the Tyrone Guthrie Center in Annamaghkerrig, Ireland and Ragdale.  She also is a founding editor of The Acentos Review, an online quarterly, international journal devoted to the promotion and publication of Latinx arts.  She is an associate professor of education at Saint Mary's College of California.
Catch her on the Twitter @rainaleon and @profesoraleon and The Facebook @rainaleon or at her blog … you know, because she's on the interwebs and likes to shake those lines a bit with articles and revolutions and events and such.
Shin Yu Pai is the author of several books of poetry, including AUX ARCS (2013), Adamantine (2010), Sightings (2007), and Equivalence (2003). A 20-year survey of her work, ENSO, is forthcoming from Entre Rios Books in Fall 2019. Her work has appeared in publications throughout the U.S., Japan, China, Taiwan, The United Kingdom, and Canada. Her essays and nonfiction writing have appeared in Tricycle, YES! Magazine, The Rumpus, City Arts, The Stranger, Seattle Globalist, and ParentMap. Shin Yu has served as an artist-in-residence for the Seattle Art Museum, Pacific Science Center, Town Hall Seattle, and has been a writer-in-residence at Jack Straw Cultural Center. Currently, she serves as Head of the Obscura Society for Atlas Obscura and was the fourth Poet Laureate of the City of Redmond.